Second screen and companion apps for console game are increasingly becoming a part of gamer's lives, and mobile devices are becoming more integrated into everyday gaming. About 38 percent of daily media interactions occur on smartphones, and that nearly a tenth of media interaction occurs on tablets, research published by Beenius shows. Game developers have recognized the role that mobile devices play in our everyday life and have developed some incredible apps to enhance the second screen experience. Here are some of the best companion apps for console games:
Titanfall Companion App
The Titanfall Companion app enables players to track their play statistics and study the lore of the Titanfall universe, as well as control an interactive mini map when they are playing the game on a console. The Intel section of the app is an expansive database of in-game lore, ranging from data about the factions and universe of Titanfall to 3D models of weapons, pilots, and Titans. The statistics section contains a comprehensive breakdown of your in-game statistics, while the Mini Map feature can be modified with filters that allow players to track the in-battle information that matters the most to them. Available for Android, iOS, WP8, and Windows 8, the Titanfall Companion App is a must have for any serious Titanfall fan.
iFruit
The Rockstar-designed iFruit companion app for Grand Theft Auto V is just a chock-full of content as GTAV itself. The Los Santos Customs portion of the app links directly to your in-game garage and allows you to customize and design your perfect ride. Everything from the engine and tires to the paintjob and license plate can be customized directly from the iFruit app, giving you just as much customization control in-app as you receive in-game. The Chop the Dog portion of the app is a virtual pet that lets you raise and care for everyone's favorite junkyard Rottweiler, Chop. The better care you take of Chop in the companion app, the more effective and helpful is to Franklin in the actual game. Available for iOS and Android devices, the iFruit app allows you to take Los Santos with your wherever you go.
Battlefield 4 Commander & Battlelog
One of the most satisfying second-screen apps is the Battlefield 4 Commander app for Android and iOS devices. Commander mode is Battlefield 4′s strategic and tactical game-mode that allows players to play the role of an off-site officer providing support and tactical information to his in-game squads. That means you can be a part of the Battlefield chaos from the comfort of a Galaxy S5 while sitting in bed or on the bust, and with built in VOIP technology you can communicate directly with your squads while providing supply and vehicle drops that can turn the tide of any battle. The Battlelog app is the social media companion to the Commander app, and allows both you and your friends stats, build in-game clans, and even design your own unique emblem for your character.
Watch_Dogs Companion: ctOS Mobile
Perhaps the most appropriate use of second screen technology in games, the Watch_Dogs Companion app feels like it has been ripped directly from the in-game world and deposited on your Android or iOS device. Mobile players can engage in challenges with both PC and console players where the mobile players take the role of Chicago police and attempt to thwart players as they race through the city in-game. The app itself is even free and doesn't require a full game purchase, allowing outsiders to essentially create infinite in-game content for conosle and desktop players.
A growing trend in the ever-evolving and ever-changing telephone landscape is the increasing use of Voice Over Internet Protocol (VoIP) to place phone calls. Forecasters predict that that trend will soon be the norm.
Surprisingly, this trend toward VoIP, unlike some previous major telephone changes, does not appear to challenge employees. Companies are finding that it displays an elegant adaptability. From top executives to entry-level employees, VoIP is a smooth change.
Costs for small to medium enterprises (SMEs) for telephone services rank significantly high in any company's budget. That is not news. What is news, is that like the big corporations, even SMEs can now install a best-solutions VoIP. For SME's, the monthly charge can be as low as $20 per month. That low-cost business VoIP can include many premium features such as:
first and foremost, unlimited calling and faxing
add in SMS/conferencing,
depending upon the provider, setup is free or easy
choose a cloud powered option
some systems come with no contracts
systems are fully customizable to fit any scenario
immediate phone numbers in multiple countries–an instant-on system
Some providers offer a 30-day free trial
Many have USA based support.
MAKING THE FIRST MOVE
Before taking the final step to VoIP make a list of options that you need. Making this initial step will speed up the final decision. For example, figure out how many lines and extensions are needed by your group. Every business provider has different services, features, and prices depending upon your company's situation and location.
BE PREPARED. KNOW WHAT YOUR COMPANY NEEDS
IN THE PRE-PLANNING STAGE
First, it is essential to run a speed test to check for a high enough internet connection that will adequately host your phone system. If the internet connection is insufficient, consult your internet provider for more options. However, wait to make a change until you have settled upon a final plan.
Second, compare particular provider offerings that fit your financial situation. Stay within your current service needs. Adjustments can be made later.
Third, compare various types of equipment in several available options to meet current and future needs. More than one option may work, but one should be a perfect fit.
Plans vary widely from provider to provider. A list of questions covering variations in plans prevents consumers being locked into contracts with some expensive options or inadequate coverage.
10 IMPORTANT QUESTIONS TO ASK BEFORE SIGNING
 Any startup or recurring costs?
 Is there a money-back guarantee?
 Is there a contract?
 Are there any cancellation fees?
 Are there any hidden or undisclosed fees?
 Which features are included?
 Which features cost extra?
 Is international calling offered?
 Are there port phone numbers?
Is support available?
Consumer reviews can be invaluable for a final comparison of various providers by listing their available features and availability.
GetVoIP.com offers Exclusive Comparison Guides that direct companies to the perfect VoIP service match. Information on the latest in small business VoIP technology can be found, along with top providers and best services.
A company statement avers:
"We've helped over 150,000 buyers find the right communication system." Using their Guide you can:
I.   Compare prescreened providers.
II. Identify the best solutions.
III. Get personalized price quotes.
IV. Read consumer reviews.
At that point it is possible to make an informed and effective decision.
With the comparison guides, companies can easily and smoothly compare over 200 providers to break down and identify the ideal solution for any situation.
Compare leading providers for:
O LOWEST PRICES
O PERSONAL SERVICE REPRESENTATIVES
O UNLIMITED CALLING AND FAXING.
and much more.
Why Choose VoIP?
VoIP creates the ability for you to work more effectively and efficiently. Free up your time for other important tasks such as growing your business.
A.  Work where and when you want. You will have one virtual extension number, not a
separate number for office, cell, and home. That extension number goes with you,
so you can be reached wherever you are at any time.
B.  Flexible messaging options facilitate retrieving and maintaining messages:
listen
voicemail transcription read it
receive as a text.
This incredible system makes telecommuting so easy. With its total simplicity doing business world-wide is a breeze. The hosted PBX is a cloud based internal network across the entire company. Every worker has an extension. Whether the worker is in Boston or Brunei or in Anchorage or Zanesville just dial the workers extension to be connected.
It is time to
Digitize
Customize
Optimize
Transform – your whole company.
You're browsing for a new smartphone and find the one for you but then realize it doesn't have the mobile OS you were looking for — dilemma time.  But now this no longer applies to the HTC One M8. Starting today, Verizon Wireless is the only place where customers have the choice of this popular smartphone on multiple operating systems. Users still experience the full-metal unibody design, 5-inch full HD display, and dual front facing speakers with HTC BoomSound, but now Windows Phone is an option. And football fans can really put the HD display and front facing speakers to good use with NFL mobile. MORE Everything customers get NFL Mobile for the entire 2014/2015 NFL season, including access to live streaming games and NFL Network 24/7, on their smartphone at no additional cost. The smartphone is also the first Windows Phone with Verizon Messages so users can sync their messages across devices and text from a tablet or desktop. The HTC One (M8) for Windows is the first smartphone from Verizon Wireless to have Windows Phone 8.1 and all its new features at launch, including the personal digital assistant, Cortana. Her talents include helping you find good pizza when hungry, reminding you to pick up groceries, and sending text messages and more by just using your voice. Have an appointment? Cortana will have the directions ready for you but also let you know if there is traffic and if you need to leave early. Another new Windows Phone 8.1 feature is Action Center, which makes it easy to view and manage notifications as they come in, along with customizable settings shortcuts. And the updated Start screen experience allows for a new level of personalization with custom Live Tile background images and the ability to create folders for a more organized look. Users also now have a selection of over 300,000 apps through the Windows Store, including favorites like Vine, Instagram and Uber. The XLTE-ready HTC One (M8) for Windows will be available online starting at noon ET today and will be in stores starting tomorrow, Aug. 20. Customers will also have a selection of accessories to choose from such as the HTC Dot View™ case. For a limited time, customers can purchase the smartphone for the promotional price of $99.99 with new two-year activation. Verizon Edge is also available for eligible customers. And for a limited time, customers who activate or upgrade to a new smartphone on MORE Everything plans with at least 1 GB of data will get an extra 1 GB of bonus data per month for up to 24 months, as long as that smartphone remains active on the MORE Everything plan. HTC ONE® (M8) FOR WINDOWS®   OS Windows Phone 8.1 Update   Display   5-inch super LCD3 1080p HD Display   Camera   Duo Camera: Primary Ultrapixel™ camera and secondary depth-information camera.   5-megapixel front-facing camera   Storage   32 GB internal storage (formatted capacity is less) and supports up to a 128GB microSD card (sold separately)   More Everything customers receive 25GB cloud storage on Verizon Cloud at no additional charge   Battery   2600mAh
Protecting your company's data is all that stands between you and disaster, and the decision of where to back up your data is possibly the most important one you'll ever make.
There are two different ways to store your data: online and offline. Currently, the most popular type is online cloud storage because if someone steals your data (offline) or there is some kind of physical catastrophe like a fire or flood, then having your data backed up in the cloud will save you.
But what do you look for in a cloud storage service? Here are some things to consider when shopping for one.
Storage Capacity and Cost
How much storage space do you need? Cloud backup services charge by the amount of storage you need and offer different plans ranging from one gig to unlimited storage. Be sure to read their plans carefully because sometimes the plan looks cheaper than it is. Top 10 Cloud Storage explains that the least expensive option does not always equate with the best value for your money. They rate cloud storage companies on their services, features, storage space and reliability and then weigh that against their cost to determine their value.
So what does it cost to get a reliable cloud backup service? Should you get unlimited storage or should you get exact-amount pricing? Consider this:
Zipcloud charges $4.95 per month for 250 GB.
Symform charges $83.83 per month for 1 TB.
JustCloud charges $3.95 per month for unlimited storage.
Apple charges a little over $8.00 per month ($100.00 per year) for 55 GB.
There are a lot of companies that supply online cloud storage, so analyze your needs so that you don't overpay for storage.
Security
Signing up for a plan with an online cloud service that does not value security is not an option. Even if every other feature meets your needs, a top security policy is crucial.
Usually cloud storage is available with 128-bit SSL encryption, which is an industry standard. However, 256-bit SSL encryption is better and 448-bit Blowfish encryption is great—it's actually better than your bank. If you can't find how the company implements its security in the plan, make sure you ask before choosing them.
Company History
It's just like any business, if they've been in business for years and have great reviews by real customers, then you're probably a lot safer than going with a fledgling company, if only for your personal state of mind. If the company goes out of business while you're using them…enough said.
Data Deduplication
One very cost-effective piece that many companies have is the use of data deduplication. Data deduplication is a compression technique that prevents any data from being saved twice. If you are on a per gig storage plan, this could be critical so as not to waste space.
Rapid Restoration
Check on the length of time it will take to restore your data from the cloud if everything fails on the ground. Most companies have an instant restore feature, which gives you the peace of mind that there is no down time. You can customize settings like recovery point and time objectives that fit your particular business needs.
If you have made the decision to back up your business using a cloud online storage service, you have made a very wise choice. The statistics are in: 60 percent of companies that lose their data will shut down within 6 months of the disaster. Don't let your business be one of them.
It's been a year and a half since we reviewed our Manhattan Flyte Wireless Headphones. For our new review we have their updated Manhattan Fathom Wireless Headset. This headset features Bluetooth,NFC, and the availability to listen to your music, even if your battery is dead. Are the Fathom worth a look at for your next set of headphones?  Lets find out.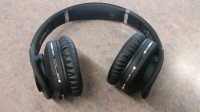 Lets start out by checking out the look of Fathom Headphones.  The version we have are black. Manhattan also offers a white version.  Included in the box are the headphones,  a microUSB charging cable, 3.5mm headphone  cable, and a carrying case.
The Fathom headphones are over-the-ear headphones that have a soft leather cushions. The ear pieces move independently from the rest of the headphone so they fit very comfortably onto your ears.
The right ear piece has the charging port, the headphone jack, volume button, status light, and the play controls/ phone button. The noise cancelling mic for phone calls is also on the right ear piece.
The head band features an inner metal band, covered in a hard plastic. The crown of the band has a padded section for comfort when your listening to music for hours on end.
Once you have your headphones charged, pairing them with your phone is a breeze. If you have a phone that has NFC you can  just hold down the phone button on the headset when it is near your phone and the Fathom Headset will automatically connect. For Bluetooth, hold down the multifunction button for about 5 seconds until the LED light flashes red and blue.  Next, just pair with your phone as you would any other Bluetooth device and you are good to go.
The Fathom Wireless headphones have a slide adjuster on both sides so the headphones will fit most any size head.
The Fathom are very comfortable and light weight.You can wear them without any fatigue. For answering phone calls, all you have to do it touch the phone button on the right ear piece and you are automatically connected to your incoming call.
On initial charge, it may take up too 3 hours to reach a full charge but once fully charged, the Fathom Wireless Headphones will play for up too 15 hours. If you choose to connect your headphones to your device with the included headphone cable, the control buttons on the headset will not function.
The sound quality of these headphones is excellent with clear crisp highs which  makes vocals and movies sound great. Also the lows are clear and there was no distortion with the music i was listening too or the movie Apollo 13 that I used for testing. One thing I did notice, was that these headphones don't get loud to the point where you could damage your hearing. This is a great thing if you are looking for headphones for your child (as I am) so they can't damage their ears.
Overall the Manhattan Fathom Wireless Headphones  are a great and sturdy set of headphones. They feel very well-built and from previous reviews of the Manhattan products, I can say they do make a quality product. Priced at $68.24 on Amazon.com, they are a great value for the money.
By Mary
We're trekking all the way to Allentown for our long-awaited meetup with Nina Barbuto from Assemble. An authority on dynamic field of creative technology, she has a lot to share about the role of engineers in society, the financial realities of invention, and the challenges of making technology accessible to the general public. Also discussed: Pittsburgh vs Los Angeles, creative serendipity, and where technology is going to drive this city.
Recorded on location at Sweet Peaches in the Allentown neighborhood of Pittsburgh, PA. Follow them on Twitter @eatsweetpeaches.
Follow the show @brunchburgh, online at www.brunchburgh.com, and on iTunes.
Follow Mary on Twitter @maryestew .
Follow Nina on Twitter @nbarbuto.
To learn more about Assemble, visit their website at assemble.org or follow them on Twitter @assemblepgh.
Learn more about the Carnegie Stem Girls at the Carnegie Science Center.
Mentioned in this Episode:
Pittsburgh Comedy Festival
Southern California Institute of Architecture
Tech Shop Pittsburgh
East Liberty Farmer's Market
Zenith
LACE (LA Contemporary Exhibitions)
Upright Citizens Brigade Theatre
Source: Brunchburgh
Ever since the Walkman was invented in the 1970s, people have enjoyed taking their music with them, no matter where they go. And as the technology progressed from iPods to smartphones and other handheld devices, it has gotten easier and easier to get your tunes on the go. But, it hasn't come without hassle.
While applications like Pandora, Spotify and iHeart Radio make it possible for users to listen to music online 24/7, the companies have struggled to find a balance between pleasing their consumers and monetizing their product. Listeners have grown tired of having to pay for radio streaming and of the alternative — having to listen to ads should they opt for their free version. Samsung may have just introduced the answer, however, with their launch of Milk Music.
What is Milk Music?
Milk Music is an ad-free radio streaming service from Samsung that allows listeners to get more of the music they want, absolutely free. Right now, the service is available to Galaxy S3, Galaxy S4 (including Active and Mini) Galaxy S5, and Note 2 and Note 3 owners. For now, users can download the app for free in the Google Play Store, though the application may come standard on future devices.
Milk is powered by Slacker Radio and boasts more than 200 ad-free stations featuring 13 million songs. The service can be easily customized based on preferred genre, popularity of the songs and even their release date.
How it Works
Known for their sleek designs, Samsung hasn't cut corners in design of the Milk Music application, either. The app consists of a unique, interactive dial – reminiscent of the traditional radio dial – that users can turn to seamlessly change between rock, pop, hip hop, punk stations and more. Unlike the radio where you can't control what's on, Milk Music is completely customizable and can be selected by genre, popularity of the song and even its release date. And if users still aren't feeling the tunes, there are six song skips available per hour.
A Quickly Growing Trend
Though the market for listening to music online is already saturated with dozens of options, that hasn't seem to have an effect on the growth of Milk Music. Since it was introduced in March, Milk Music has already seen an impressive 2 million downloads. And considering the fact that more there are more than 200 million Galaxy owners worldwide, that number is only expected to grow.
Perhaps what sets the service apart is Samsung's strategy of bringing life to the app. After hitting their 2 million milestone, the company produced a 90-second ad for the service, featuring some of today's most in-demand acts, including Iggy Azalea, John Legend, Little Dragons, Chromeo and Lady Antebellum.
Music Milk is a great music streaming option for users who own a Samsung device and want to stream free music on the go. With 200 genre stations and 13 million songs, music lovers will have plenty of choices.
Pittsburgh, Pa. — On Sept. 7, 2014, Phipps Conservatory and Botanical Gardens will celebrate the bounty of field, farm and garden with a savory, multi-course feast served against the beautiful backdrop of its flower-filled glasshouse. This unforgettable Sunday garden party, featuring locally sourced fare, select wines and special entertainment will not only allow guests to savor the fresh flavors of a vibrant Garden to Plate Dinner, but also revel in the warm spirit of community and the company of friends. 
The Garden to Plate Dinner — with Diane Holder as event chair and Theodora Polamalu and Ryan B. Martin and Dr. Maureen Russell as honorary event co-chairs — will commence at 6:30 p.m. with a V.I.P. Reception for benefactors complete with fine wines and delectable hors d'oeuvres. At 7:30 p.m., all other guests will join the party for the Garden to Plate Dinner and enjoy select wines, the multi-course feast and live entertainment. Valet parking is available and attire is garden party.
   Tickets for the Garden to Plate Dinner can be purchased through Aug. 31 at phipps.conservatory.org, by phone at 412/651-5281, or via email at reservations@phipps.conservatory.org. Benefactor tickets cost $200 per person and include the V.I.P. Reception at 6:30 p.m. and Garden to Plate Dinner at 7:30 p.m. Patron tickets cost $175 per person and include the Garden to Plate Dinner at 7:30 p.m. Host committee tickets and sponsorship packages are also available. For event questions, contact Rachel Kernic at 412/622-6915, ext. 6404. For ticketing questions, call Cherise Clark at 412/622-6915, ext. 3966. Learn more at phipps.conservatory.org.

About Phipps: Founded in 1893, Phipps Conservatory and Botanical Gardens in Pittsburgh, Pa. is a green leader among public gardens with a mission to inspire and educate all with the beauty and importance of plants; to advance sustainability and promote human and environmental well-being through action and research; and to celebrate its historic glasshouse. Learn more: phipps.conservatory.org.