Santa Fe Springs, Calif.– December 5, 2013 – Swann, a global leader in do-it-yourself security monitoring solutions, announces the release of its Quad Starship™. Swann's new Quad Starship looks like something from a space movie, but it's here, it's real, and it will boldly take your teenagers into a new out-of-this-world dimension this Christmas. The Quad Starship™, is available at Amazon, Fry's, Tiger Direct and B&H stores nationwide for $79.99.
The Quad Starship is equipped with Swann's Easy Fly Gyro technology which includes 4 axis and propellers. With this design it makes for easy multi-direction maneuverability and simple control. The four rotors mean it can move up, down, forwards, backwards, and sideways, as well as perform flips and stunt tumbles.
The compact and powerful Swann 2.4GHz control is capable of transmitting a signal up to 330 feet away. The Swann Quad Starship is simple to set up and easy to charge. Simply add four alkaline AA batteries to the remote control, and then charge the chopper using the USB cable included. Once charged, you're up and away with 8 minutes of aerial flying time per charge. The Swann Quad Starship 's lightweight and durable construction is built for indoor flying in any direction.
"The Quad Starship is perfect for intermediate pilots aged 14, plus those who have never used remote controlled helicopters before. Teenagers can be hard to buy Christmas presents for, but I defy any teenager (or their Dad) not to have fun with the Swann Quad Starship," says Jeremy Stewart, Vice President, Marketing of Swann. "The Easy-Fly Gyro technology will help to self-stabilize the flight level and maintain control. With some practice you will be performing death-defying turns, dives, flips, tumbles and stunts in no time."
For more information on Swann's Quad Starship, go to www.swann.com.
Available
The Quad Starship, is available at Amazon, Fry's, Tiger Direct and B&H stores nationwide for $79.99.
About Swann:
Swann is a global leader in security monitoring solutions and fun gadgets targeting consumers through retail channels. In 2012, Swann celebrated its 25th anniversary as a manufacturer of consumer electronics products that are innovative yet cost effective.
The company's products are mainly do-it-yourself with easy-to-follow 'plug-and-play' instructions, free after-sale 24/7 technical support and retail-friendly product packaging aimed at home, office and small-to-medium retail users.
For customers needing more high-tech solutions, Swann is at the forefront of the latest international trends including full HD 1080p, HD surveillance cameras, Wi-Fi network video recording, live Smartphone connectivity and more.
Swann was founded in 1987 and now has offices in the USA, Canada, Australia, the UK, China and Hong Kong with distribution partners around the globe.
Swann's reseller network includes some of the world's largest retailers and distributors including Fry's Electronics, RadioShack, Best Buy, Costco.com, Canadian Tire, Dick Smith and Maplin Electronics.
On Dec. 5, a milestone date will be reached as Verizon Wireless celebrates the three-year anniversary of the launch of 4G LTE technology. On that date in 2010, customers in 39 markets across the U.S. became the first to experience that game-changer in mobile technology.
When he first announced the news, Dan Mead, president and chief executive officer of Verizon Wireless, stated, "Verizon Wireless is making the best network even better. Our initial 4G LTE launch gives customers access to the fastest and most advanced mobile network in America."
Fast forward three years, and Verizon Wireless now has more than 500 markets covering more than 303 million people in 50 states, or 95 percent of the U.S. population. With the most reliable 4G LTE network, the largest footprint, and deployment of its Advanced Wireless Services (AWS) spectrum now adding capacity nationwide, the company is ahead of the competition in terms of quality, coverage and technology. Verizon 4G LTE is available where customers need super-fast mobile broadband connections, from major airports to many small towns through the LTE in Rural America program. And Verizon Wireless' 4G network is pure 4G LTE (Long Term Evolution), not a mix of 4G technologies.
Today, the most amazing thing is what people are doing with the network – things that couldn't have been imagined a few years ago. Some of these examples include streaming HD-quality movies to devices; using smartphones and tablets to control temperatures remotely in homes; and monitoring, measuring and enhancing fitness and health-related activities through many products, services and apps.
The network also helps small businesses and entrepreneurs do things they never thought they could.  For example, budding book publisher Adora Pet is able to take credit card payments by smartphone, and shoe entrepreneurs Monica Gonzales and Ann Marie Smith amped up their business, Aldabella Scarpa, with wireless technology as well.
In June 2013, Verizon Wireless launched 4G LTE in its 500th market in Parkersburg, W.Va., and its portfolio of tablets and devices continues to grow in popularity and capabilities.
What's next for Verizon Wireless? Deployment of AWS spectrum in most major markets is adding capacity to the network, as more than 66 percent of the company's data traffic now rides on 4G LTE.  And next year, customers will be able to experience Voice over LTE (VoLTE), a 4G LTE technology that can enable a host of advanced services, including HD
Voice and video chat. 4G LTE roaming for Verizon Wireless customers outside the U.S. will also begin in select countries.
Let us know how 4G LTE has made a difference in your life. Share your experiences on Twitter with @VZWnews or @VZWPaul.
Mazda touts the 2014 CX-9 as Remarkably Engineered To Take On The Incredible. One drive behind the leather wrapped wheel while your body is cushioned by the heated leather and suede seats you will realize just how Remarkably Engineered this car is. How about the rest? Lets find out.
The 2014 Mazda CX-9 is powered by a 3.7L DOHC 24 Valve engine. The V6 gives you 273HP and 270 LB FT Torque.  The engine is paired to a 6 speed sport automatic transmission. The transmission also has an auto stick feature allowing you a sportier feel and the enjoyment of shifting on the back country roads. To help keep your car going straight on those back country roads, they have included an active torque split AWD. Fuel mileage is 18 MPG combined. To slow that power down the CX-9  has 4 wheel vented disc brakes.
Safety is one of the biggest factors for some people, and the Mazda CX-9 doesn't disappoint in that department. Overall, the CX-9 received 4 stars. Front Crash Rating is 3 stars for both driver and passenger. Side Crash is 5 star for both front and rear seats, and 4 stars  in the rollover category.  Some of the safety features added to the Mazda are ABS with EDB and brake-assist to help keep your car straight and your breaks from locking up in multiple weather conditions. To help keep all four wheels on the ground, there is roll stability  control. Should you happen to roll over, there are advanced dual front and side impact air bags and third row side curtain air bags with roll-over protection. Front and rear impacts are minimized by use of crumple zones. There are side-impact beams in the doors also.  Another good way to make sure you are safe while driving is to keep your tires properly inflated. The CX-9 includes a tire pressure monitoring system to help you keep your tires at the right pressure. It's very easy to get into a wreck while backing out of a parking spot or your driveway,  so they have included rear cross traffic alerts. Also, there are backup sensors to keep you from backing into a wall or other vehicle while parallel parking.  There is even blind spot monitoring in both mirrors that include visual and audible alerts.
Lets take a look at some of the exterior features.  The CX-9 rides on 20 inch aluminum wheels wrapped in 245/50R20 tires. There are front and rear wipers, with the fronts being rain sensing wipers. The headlights are BI-Xenon with fog lights and LED Daytime Running Lights. The mirrors have blind spot sensors and are heated to keep them clear of ice and snow. The rear lift gate is power open and close. The color matched door handles have a push button lock so you don't have any keys to remove to get into your car.
Now lets move to where most of your time will be spent, in the interior. All 3 rows of seats are leather wrapped. The driver and passenger seats have suede inserts and are both heated. The driver's seat also has 8 way power adjustment with lumbar support and 3 position memory. The seats are very comfortable and the leather is soft and holds the heat well from the seat warmers.The suede  inserts add a very nice touch.  The middle row is 60/40 split folding and the 3rd row is 50/50 split fold.  There is the LATCH system for attaching your child safety seat securely. The front of the car features a 3 spoke steering wheel that is leather wrapped. The wheel also has tilt and telescoping features.  The shift knob is also wrapped in the same leather as the steering wheel. The center console has a unique split design that lets the console be opened by either the driver or the passenger without the other having to pick their arm up. Also in the center console is the USB plug and Aux in plug for listening to music from you phone or iPod.  One nice feature that Mazda has added is a small cut out from the center console that allows you cable from your phone or iPod to come out without being smashed by the arm rest when closed.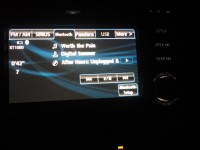 Climate control for the CX-9 has 3 zones, driver, passenger, and rear seat. All 3 zones can operate independently of each other, or together.
The rear view mirror includes an auto dimming function with built-in home link buttons.
The rear storage area is decent sized with the rear seat up. With the rear seats folded flat, you should have more than enough room to pack your belongings for a cross-country trip with you and the family. The read also contains the spare tire, jack, and lung nut wrench. On the side  there is a power outlet for the people in the back to charge their phone, or if you are going for a day at the beach, you can keep your drinks cool in a small fridge.
Lets take a look at the infotainment system. The MX-9 tested came with the GT Tech package. This includes a Bose Audio system with 10 speakers. Also included is Sirius Satellite Radio with 4 month subscription. The display is a 5.8 inch touch screen with back up camera. The system includes on-screen navigation with the ability to find locations via voice. Bluetooth functionality with your phone gives you the ability to make hands free calls via controls on the steering wheel. You can also stream your music from your phone to the Bose sound system. You can also control your music from the steering wheel controls. The steering wheel controls make using the radio very easy, you can control almost everything without taking your hands off the wheel. The Bose system gives you very clear sound, even in loud driving conditions. The bass is noticeable and very vibrant, without waking up the neighbor's with a vibrating car.
The warranty on the Mazda CX-9 is 36 month/36,000 mile bumper to bumper warranty with a 60 month 60,000 mile powertrain warranty. Also included with this is 24 hour roadside assistance.
Base price for the 2014 CX-9 is $36,625 with a price as tested of $40,005. Price includes the GT Tech package and an added rear stainless steel bumper guard.
Overall, the 2014 Mazda CX-9 gives you a very comfortable ride and provides many safety features.  The price of the CX-9 fits in with other cars of this class. The third row of seats make this a very attractive vehicle for family's that either have multiple children, or children who like their own set of seats. One of the downside to the CX-9 is  the low gas mileage numbers it gets.
No matter how much technology we use and have, we always manage to still use a clipboard. Clipboards have been around since it seems like forever, but they have never changed. You have to push against that hard to move spring that will eventually break, or the clip bends and isn't good anymore.  Jimmy John Design LLC out of Philadelphia PA has come up with the next evolution of the clipboard. Introducing the ClipBook.
The ClipBook removed the spring and hard to push metal clip and replaced it with magnets. Not only that, they have given you a front cover to keep your papers clean and wrinkle free. The ClipBook also gives you different ways to use it. One way is to have a cover and only flip the cover 2/3 of the way open if you only need to see the bottom part of your papers.  You can also flip the cover open over and have the top inch hold your paper like a traditional clipboard would, just using magnets.
The ClipBook started as a Kickstarter project, and after being successfully funded, have now got a website up and running where you can preorder your own. They have given you 6 different options to choose from including cloth, and premium faux leather.
One of the great things about the older metal and wood boards is on the metal clip you could clip your pen on to make sure it was always with you. The folds on the ClipBook also give you a place to keep your pen with you at all times.
Prices range from $29.95 to $34.95 for the cloth and $44.95 for the faux leather.
Overall the price is more than a traditional clip board, but with the ClipBook you no longer have the meta clip and spring to bend or rust. You get the ease of magnets to not only hold your papers secure, but also make it easy to remove the papers you want.
If this interests you, check out their website HERE
Deregulation in electricity and gas has led to new technologies and choices for consumers. There are several factors driving this new direction, including an aging energy infrastructure, dissatisfaction with inefficiencies, deregulation in other industries, and federal laws setting the stage for competition, including Public Utility Regulatory Policies Act of 1978 and the Energy Policy Act of 1992.
Fuel Cells
Deregulated energy markets are stimulating renewed interest in fuel cells. They are rapidly proving to be a popular alternative energy sources due to several factors. Fuel cell manufacturing and sales costs are dropping as technologies improve and become more widespread. They provide reliable and consistent power when traditional electricity isn't available, with the possibility for wider applications. They offer ease of use with a much smaller environmental footprint and space requirements than traditional electricity.
Low to zero emissions and efficiency mean fuel cells are as viable for residential use as they are for vehicles. Add low lifetime maintenance costs and high reliability, plus flexibility of use, and fuel cells are a more and more attractive home energy option. They can be used independent of grid power or, if allowed, tied to the grid for backup power. They can also be used in combination with other alternative energy systems such as solar and wind power.
Solar Energy
Although solar power has been a controversial subject in some places, successful deregulation in New York, Texas, and Connecticut has led to cost-saving renewable energy options. Solar energy options continue to be attractive for residential and commercial consumers. Steadily falling costs of solar panels have prompted increases in installations since 2009.
Researchers at the German Fraunhofer Institute for Solar Energy Systems have beaten the 2012 record for solar panel efficiency of 44 percent with a new solar cell structure that achieves 44.7 percent efficiency. The new solar cells are for use in concentrator photovoltaics, which more than double the efficiency of conventional photovoltaics, giving them enough energy to power a house.
Wind Power
While residential wind turbines may not be a viable option everywhere, the option to choose wind-generated power instead of grid power is available in many areas because of deregulation. With wind power being generated in 48 states, including top wind power states Texas, Iowa, Wyoming, and New Mexico, wind-generated power is a viable clean, renewable energy source. The National Renewable Energy Laboratory report found that wind turbines in the U.S. could generate almost 10 times the amount of energy required to power the entire nation.
Keeping a home efficient and secure is something every homeowner should do. Thankfully, it's only getting easier to do this as time wears on and the market increases for the appropriate devices. HomeLink products from AmericanSecurityCo.com are a great example of an affordable set of solutions for linking all the different RF products in your home to a single remote, or even adding new ones. The following are just a few of the benefits that come from RF linking products in your home.
The most common example of an RF signal in most homes is the link between the garage door and the garage door opener. We can't get along without these, and we can't get along without them being secure. However, until recently, most of the universal solutions for these weren't safe. There were a very limited number of frequencies, and "guessing" correctly was simple for an ambitious thief. Through HomeLink, however, it's possible to have a centralized RF hub that will safely account for your garage door and more. It's no longer a security necessary to separate and isolate all the different RF-sensitive items in your home to different remotes with unique frequencies.
Another common use for RF signals is in lights. Many have taken to having RF signal boxes for their lights because it makes it safer for them to approach their homes and businesses at night. With an RF remote linked to your lights, you can turn your lights inside and outside of a building on before you even approach. Turning them on from a distance allows you to see your route to the door cleanly, and prevents anyone from hiding along it to try to perform a mugging or anything else. It's not an absolute defense and isn't a replacement for a full security system, but it's still a very simple addition that can keep a home and its residents more secure.
With a centralized unit, you can link all of these sorts of features to a single dedicated remote. There's no juggling devices for your safety. With HomeLink, you can consolidate it all to a single device and have total control of your RF-linked items from just one remote that's easy to program, easy to replace and easy to keep on you. It lets you be the master of your domain at a distance, and the technology is only improving as it grows more available.
Ballistic set out this holiday to say "Thanks a Million" to local volunteers by coordinating
nominations for them to receive free protective smartphone cases; they reached this
goal within 24 hours, so are now offering "One Million More"
Ft. Lauderdale, Fla. – (November 12, 2013) - Nearly 70% of all firefighters are volunteers. These courageous firefighters and their stations play a critical role in
keeping our communities safe. In celebration of their bravery, sacrifice and dedication, this holiday season Ballistic Cases set out to say "Thanks a Million". In partnership with
the National Volunteer Fire Council (NVFC), the Ballistic Case Company kicked off an
initiative to donate one million dollars' worth of protective smartphone cases to volunteers throughout the country.
"In one day, the one million dollars' worth of cases was not only reached, but exceeded,
because of the explosive response from men and women across the country," said
Hank Goradesky, CEO, Ballistic. "Now Ballistic is pleased to announce an extension.
We're determined to donate a total of two million dollars' worth of protective smartphone
cases."
Volunteer firefighters can sign up to receive free cases at Facebook.com/BallisticCases.
There, you can also do your part to say "Thanks a Million More" by nominating a local volunteer firefighter and their station, sharing your story, or by simply leaving a thank you message.
View details HERE.
In recent years call volumes have tripled, putting a strain on already limited resources
and making these brave volunteer firefighters work harder than ever. Smartphones have
become an important tool in the firefighter toolbox; and having a case that ensures
these phones are protected is Ballistic's way of saying thanks to these everyday heroes.
Twenty years of real world use by firefighters, policemen, EMTs and other first
responders has shaped Ballistic's legacy and resulted in the Six-Sided Drop Protection technology found in Ballistic cases today.
To join in saying "Thanks a Million," visit Ballistic on Facebook and nominate your local station, share a story, or simply leave a thank you message. Ballistic will donate cases (HC, SG or SG Maxx) to nominees throughout the holidays. Volunteer firefighters and
stations can also sign up to receive a case directly at Facebook.com/BallisticCases.
"Doing the right thing is something that has driven my team for 20 years," said Hank Goradesky, CEO, Ballistic. "These loyal volunteers wake up every morning and truly
demonstrate what 'doing the right thing' is all about. We are honored to work with the
NVFC to help support these real-life heroes. We are truly ecstatic to see the successes
of this, with firefighters nationwide being eager to participate in the program. With
"Thanks a Million" we invite everyone to show their thanks to the men, women,
husbands, wives, co-workers, neighbors and friends that keep our communities safe."
"The NVFC is pleased to partner with Ballistic to provide free smartphone cases to
volunteer firefighters," said NVFC Chairman Philip C. Stittleburg. "We cannot believe
how quickly the original goal was reached, and we are incredibly grateful for Ballistic's
continued dedication with their commitment to donating two million dollars' worth of
cases. This is a great example of a company giving back by supporting the volunteers
who protect our nation's communities."
For more information on "Thanks a Million" and how you can join in celebrating these
brave volunteers, visit Facebook.com/BallisticCases.
###
About NVFC:
The National Volunteer Fire Council (NVFC) is the leading nonprofit membership
association representing the interests of the volunteer fire, EMS, and rescue services.
The NVFC serves as the voice of the volunteer in the national arena and provides
invaluable tools, resources, programs, and advocacy for first responders across the nation. Learn more at www.nvfc.org.
About Ballistic® Case Company
Ballistic's philosophy is simple: Engineered Protection. Our dedicated team of engineers
is passionate about one thing: perfecting protection. Through innovative design,
durable materials, and 20+ years of experience, Ballistic delivers protective solutions for every lifestyle.
HTC One MAX. All the things you love from the HTC One, with a larger screen for all your video's and YouTube enjoyment.
By Albert Aydin
Smartphones come in various shapes and sizes. The choice sometimes comes down to personal preference and needs when picking out a new smartphone. Fans of large screens now have a new choice to fulfill that need, the new HTC One Max with a 5.9-inch full HD display.
The HTC One Max is now available online and in stores for $299.99 with a new two-year activation. Verizon Edge is also available for eligible customers who want to upgrade.
Video fans can appreciate the large HD screen for their lifestyle. Apps like NFL mobile and Netflix are a different experience when watching on a big screened smartphone and not having to hold the phone up and close to your face. And with HTC BoomSound, the two front facing speakers can make users feel as though they have a home theater in their pocket.
Users will notice features from the HTC One on the new smartphone plus a few new ones such as a fingerprint scanner. Many people check their phone numerous times a day, and sometimes it can be annoying having to enter a PIN or password each time. Swiping a finger is an easy and convenient way to unlock and use a phone. Apps can even be assigned to individual fingers as shortcuts; so for example the pointer finger can launch the messaging app and the index finger can launch the camera.
In today's world, pockets and bags are filling up with devices. The One max can be the device that helps clear up some space by acting as a smartphone, tablet and mobile wallet. The smartphone is ISIS-ready and comes with an enhanced SIM card pre-installed so it can become a wallet and replace the need to carry credit cards, loyalty cards, and other special offers. The ISIS Mobile Wallet app lets users pay with their  phone and can be downloaded from the Google Play Store.