TrustPlus is an online ranking and reputation system.
To start building your reputation all you need to do is go to TrustPlus.com and sign up for a free account. You'll immediately become 'trustworthy'.
According to TrustPlus:
TrustPlus is a service that allows you to receive and create reputation anywhere you go online. TrustPlus allows you to collect your existing reputation, collect new reputation as you interact and transact anywhere you surf, and provides you with meaningful analysis of the reputation of people with whom you are interacting and transacting online. TrustPlus is currently operational for craigslist® posts. Additional sources of trust will be added soon and frequently.
 

Through TrustPlus you can rate other TrustPlus account holders and see other peoples'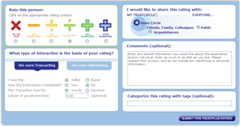 ratings when you visit numerous sites and have the toolbar installed. A little icon pops up next too the username when available. 
You ca set up a 'Trust Circle' and put people of levels of your inner circle, friends, family, colleagues or acquaintances.
This is a great idea. I hope it gains the Internet Saturation it deserves.
Of course there is room for spite and the ability to rate someone poorly just because you don't like them I suppose but isn't the Internet built mostly on Trust? At least this is a positive way to try and show your reputation.
There is a space on the site for badges and widgets which will apparently, hopefully, be coming soon.
It would be great if you could add the TrustPlus features to sites, blogs, maybe even email programs and toolbars.
My first thought on signing up was "What about my different email addresses?" then I noticed the identities tab where you can add in not only innumerous email addresses but ebay, linkedin, craigslist, backpage, facebook profiles and more!
I already signed up and plan on using it some. Feel free to rate me and add me to your trust circle.
<