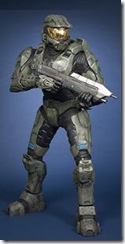 Apparently, Master Chief, the heroic star of Bungies Halo franchise is set to be the first video game character to be inducted into the Madame Tussauds Wax model museum.
The 7 foot tall model is currently being crafted in London (where many, if not all of the museums pieces are made before being shipped all over the world)
This is kind of cool because it shows that video gaming has truly hit the mainstream and is gaining some recognition, not only for its technical prowess but for the design and cultural aspects.
However, I hope that if they decide to go this route they consider why they are doing this. If it is for 'gaming history' then they certainly need to consider some of the 'relics' like Pac-Man and Mario etc.
This is one I'll have to visit 🙂