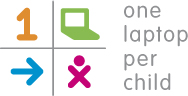 We were excited to hear about a special "Give 1 Get 1" program for the OLPC today.
People, you have to get on this one. It's a great idea and helps a whole lot of people.
Here are some details.
OLPC announced today their "Give 1 Get 1" program which enables USA and Canadian residents to support the OLPC foundation and it work by purchasing two laptops for $399-one you keep for your child and the other is sent to a child in a developing country. This two-week program will run from November 12 through Monday, November 26, 2007.
Lots to see and read after the jump.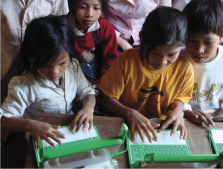 What could be better than buying a PC and having one given to someone else at the same time!
If you're reading this on a computer you know what advantages there are to having access to all this wonderful information. Heck it's worth it even if they only read the TechBurgh blog!
Able to mesh it's own network, the OLPC is something that no child should be without.
It's perfect for those remote regions of the world where electricity and computers in general are hard to come by.
It's lighter than a lunchbox and about the size of a text book.
It can be hand charged and is designed with kids in mind.
The Give 1 Get 1 program is designed to:
1. Promote awareness and understanding of the educational value of the XO laptop
2. Encourage the open-source software community to create educational content
3. Put more XO laptops into the hands of children in developing nations
Useful links:
Give 1 Get 1 site at http://www.xogiving.org/