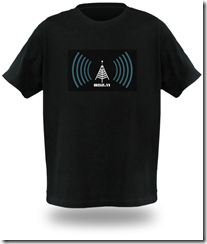 ThinkGeek has a pretty cool t-shirt. It's a Wi-Fi (802..11b/g) detecting t-shirt!
The decal on the front (powered by 3 AAAs) of the shirt lights up and animates when you're around a hot-spot.
The animation changes as the signal changes too, whish is really cool.
The $30 shirt has a small pocket sewn inside to hold the battery pack, which lasts for hours.
The decal comes off the shirt so that you can wash it (because war-driving is hard work).
I'd wear it.