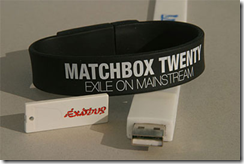 Here's a novel idea.
Everything USB  is reporting that BestBuy is exclusively carrying Matchbox twenty music filled USB Bracelets.
Each bracelet runs a costly $35 and contains 17 tracks, a music video, interviews, album art, and other computer stuff.
Could this be the demise of music on CD?
I think this is a really cool idea.  More bands should do it.  Maybe drop the price a little though and just make it a USB drive – no-one is going to actually use it as a bracelet.