Roommates is a new Web Only series on MySpace TV (yes, another one).
This quality viewing is brought to us by Iron Sink Media who managed to get syndicated by MySpace.
Apparently there are 45 episodes in the series which will run from today until December 21st.
Ford Focus was kind enough be the sponsor.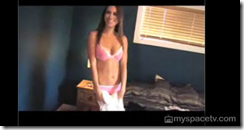 Looking at the trailer it looks a lot like a bunch of pretty girls thrown into a house to live together for a while and their exploits posted online.
It's very much 'Real Word' style and seems MySpace worthy.
Read more at ValleyWag