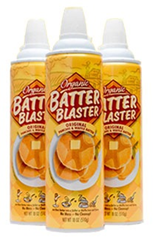 There isn't a lot better than something… anything in a can.
This isn't techy, really but it's well worth a mention.
BatterBlaster.com has Organic Pancake and Waffle batter in a can!
You dispense however much you want, when you want it.
You don't even need to refrigerate it!
Sadly this wonderful stuff is only available in San Francisco though 🙁 Any of our readers care to send us any?