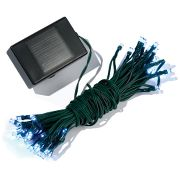 Hammacher Schlemmer has something cool and green for you this holiday Season.
The $30, 20′ string of 50 LED lights are outdoor-worthy and solar powered.
According to Hammacher the lights will stay lit for 9 hours on a charge.
This is a great idea and I don't know why it wasn't done before now.
Now someone needs to figure out how to wirelessly, remotely connect them to a computer to sync them to music.