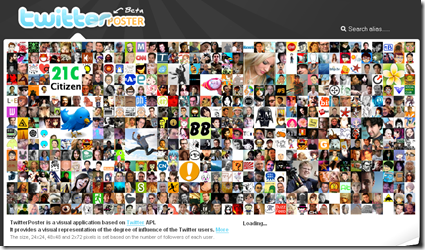 TwitterPoster is a regularly updated collage of Twitter user icons depicting how 'influential' a Twitter user is, or rather how hot they are, how many friends they have or how much they can spam. Don't get me wrong, there are some influential people on there too.
It looks like, to get on the list, you need about 350 or more followers.
TechBurgh isn't on there yet (add us).
Let's see who I see.
Like everywhere else online I see iJustine (our favorite ignorer),
Chris Brogan – Social Media Guru and all round good guy.
Cali Lewis from Geek Brief
Gary Vee the Wine Guy
Chris Pirillo – ubergeek
Justin Kownacki – Something to be desired and PodCamp Pittsburgh
What's interesting is that I don't see any 'real' celebrities.
Did you make the list?