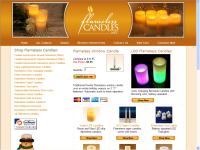 This is really cool tech and it's safe too.
You'd be surprised how many fires are accidentally set by candles, by children playing with candles, unattended candles and even curious pets and candles, believe me, I know this from various experiences.
FlamelessCandles.net sells…well… flameless candles. The vast variety of candles on the site use no fire at all. What they do use is LEDs and batteries.
Our regular readers know how much we at TechBurgh love our LEDs. LEDs are low power consumption, environmentally friendly, cool (temperature-wise), long lasting bulbs that are being used more and more in many, many applications.
LED Candles even flicker like the real thing!
From candle-light dinner style taper candles to snowman candles, from floating lights to color changing candle 'flames' (not something a real flame can do easily) FlamelessCandles.net has just about everything you need for a safe, cozy, candle-light, worry-free winter.
The prices aren't bad either! (of course we love good prices). My favorite, the Handpainted Snowman costs about $19.
Looking through the check out, you save money when you purchase multiple items – which is great! Shipping my snowman to me would be just over $7 which isn't bad either.
Go to FlamelessCandles.net to find the perfect LED flameless candle for you.