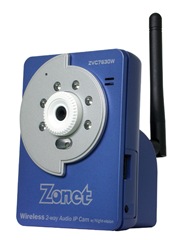 Yay! an affordable, wireless, night vision enabled, security camera!
For about $200 you can get your own wireless night vision camera.
Zonet has a neat little camera, it records at up to 30 pages per second, has a 3x zoom, encrypted, and can take care of your two-way voice communication.
So, yell at the babysitter or berate your cats while you're away from home 🙂
The only issue I have it that it needs an AC Adapter (included) doesn't that kind of tie it down somewhat? is it just that I want it all?
See the product page here