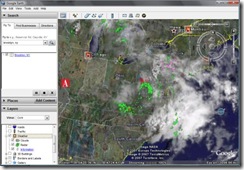 Can Google Earth get any better?!
Google Earth added a new layer to the multitude of existing layers.  This one shows you the weather at the location you're looking at.
The weather radar, showing cloud, rain and more is updated every 15 minutes.
You need the latest version of Google Earth (4.2) to take advantage of this cool new feature.
Download Google Earth here