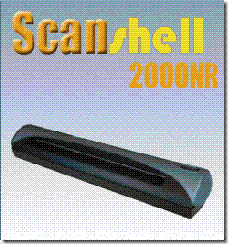 ScanShell has a slick, pretty new little scanner on the market.
Currently priced at $149 (down from $189) the ScanShell 2000N is an affordable, light-weight, 600Dpi portable scanner.
Here's what the package contains:
The super light (14oz) scanner itself
A4 Sheet feeder
USB Connection
DocShell and Scan2Contacts software
The 2000N scanner is great for those mobile warriors among us, simply grab it and go.

A great feature of the scanner is that it doesn't need an external power supply, it relies on only it's USB connection.
The one button, touch and go scanning makes it quick and easy to digitize those documents and the resolution and software make it easy to OCR (optical character recognition) on the go.
The bundled DocShell software is ScanShell's own easy to use utility that lets you easily scan documents right into your PC using it's exsisting software (nice because there is nothing heavy to install). Images can be saved as BMP, JPG, TIF, PSD, PCX, PNG, or TGA which gives you more than enough options to do what you need to.
Scan2Contacts is a neat business card scanning utility to use with Microsoft Outlook  which speedily and accurately takes and address card and puts it into the Outlook address book. using OCR.
<
p>Check out the ScanShell 200N Online