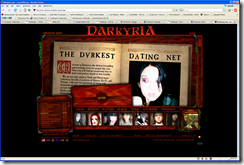 Proving that there is someone for everyone online, Darkyria.com brings us a dating site for the Goth in you.
The slogan for the site being "Love Different"
Now, I'm not Goth, never have been and I don't believe I could be if I tried but I know a nice site and a niche market when I see it.
Darkyria.com is aimed at the Goth, dark, vampire, heavy, extreme music and alternative singles out there.
Membership is free (which is always good) and like any other dating site online you can browse the site for people with similar interests to you.
There is a 'Wink' feature too that lets a person know that you're interested in them. Again, I'm not an expert but is there that much 'winking' going on in the Goth, Vampire culture. I just can't imagine it happening in real life.
There is even a 'Dark Cupid' to help you find your soulmate so that you can message, and video chat.
You can tell right away that this site for goth singles is different. The interface though (naturally) dark is a refreshing change from the usual 'dating' forms, fields and pictures.
Flash driven and animated, the darkest dating site on the net welcomes you with a book detailing what they're all about and some quick preview, online members and login areas.
So, if you're into the Goth, vampire etc scene and for some reason can't find your soulmate let the dark cupid at Darkyria.com help you out.
[This article was inspired by PayPerPost. We mean every word of it though. See our disclosure here]