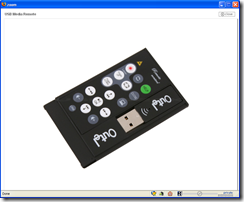 USB Gadgets has a cool little PCMCIA sized USB remote for all your laptop music needs.
For $30 you get the remote and the slip out USB adapter.
The beauty of this is the size, portability and the likelihood that you won't loose it 🙂 You see because it is the size of a PCMCIA card you can slip it into the PCMCIA slot on your laptop (I know I've never used mine, have you used yours?) so that t is there, ready whenever you need it.
The remote has a range of about 30 feet and with it you can play your media files and more.
See USBGeek.com for more information