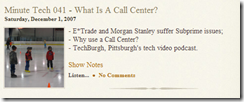 Alex Landefeld was kind enough to give the TechBurgh blog and Podcast a mention on his Podcast.
Minute Tech is an audio podcast where Alex takes a few minutes to talk about tech and how it effects humanity.
In episode 41 Alex touches on E*Trade and Morgan Stanley, Call Centers, and TechBurgh. (towards the end) He speaks about what we do on the blog, on the Podcast and Kaylynn, Lisa and Jennie.
Here are the TechBurgh related links he mentioned:
TechBurgh.com (The TechBurgh.com blog)
TechBurgh.tv (the direct page for the Podcast)
TechBurgh.blip.tv (us on blip.tv)
NekomimiLisa.com (Lisa Batey the livecaster)
en.wikkipedia.org/Lisa_Batey (Lisa Batey on Wikipedia)
37Roses.com (Jennie Roth's Blog)
Thanks for the mention Alex!