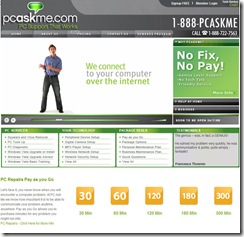 Wow, this is a new site for me and I'm glad I found it!
PCAskMe.com is a service that takes care of your Computer Repairs, all of them (it seems) remotely.
They connect to your computer and take care of it all for you.
Remote computer services are becoming more and more common, as computer are more stable in parts, high speed Internet is becoming more of a standard and big box computer stores are charging waaay too much 🙂
Wouldn't it be nice too have a PC Genius (like me) just a phone call away, ready, willing and waiting to fix all that ails your computer? Well, this is exactly what pcaskme.com does!
There are just 3 simple steps. 1. you call the toll free number. 2. They fix the issue. 3. Problem solved!
It's not just the simple stuff either, they're evidently not just some guy sitting in his basement.
Pcaskme offers a vast array of PC Services, technology solutions and package deals as well as an attractive pay as you go offering.
With prices starting at $9.99 for a quick question and working on up as they cover everything that could possibly be wrong with your computer they leave no area uncovered.
There is the usual Spyware and Virus removal, PC Tune Ups, Diagnostics and the like but the gurus at PCAskme build up to Vista Upgrades and training as well as peripheral set ups, digital camera help, wireless network setup, that all important computer and network security, and more.
The prices seem pretty good compared to a lot of the cowboys out there, the advantage PCAskMe has is that there is no traveling an thus no call out fee like many people charge.
I have a few hopes though.
I hope they have some really great, powerful remote support software backing them up.
I hope they aren't outsourcing (I did send them my resume) to countries overseas.
I hope they're not reading from databases and typical help desk software but using awesome, knowledgeable 'real' computer techs who have been there and done it and can tell you what the issue is before you really tell them.
Get your Computer Repairs
[This post was inspired by PayPerPost. See our disclosure here]