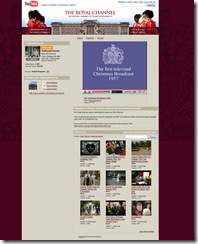 The British Monarchy has a YouTube Channel!
The house of Windsor launched 'The Royal Channel' back in October but it's really starting to flourish now and will have another video added to it on December 25th (around 3pm GMT) when Queen Elizabeth takes care of her annual Christmas message.
The channel has had 89,180 views already, has 2,386 subscribers (correct as of 12/23/07) and highlights historical events throughout British Monarchal history including Royal visits, a day in the life of the Prince of Wales, Christmas messages and more.
See more at http://www.youtube.com/TheRoyalChannel