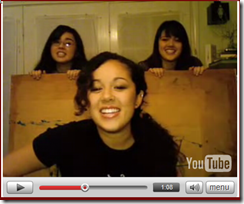 Kina Grannis, a talented young girl made a music video dedicated to 'Digging'.
For those of you who don't know what it is to Digg here's an explanation of sorts.
Digg.com is a socially driven news/media site where users submit their media (news, videos, pictures) and other visitors either digg it or bury it depending on how worthy is it.
To digg is to promote it and move it up the list and to bury is to move it down.
See Kina's post and the clever song lyrics here.
See the video after the hop.