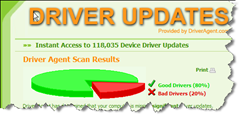 Keeping your computer up to date is crucial – in fact it's in the top 3 or 4 things you should do to keep your system running smoothly.
As time goes on vendors release new, updated, hopefully improved versions of the software that runs the hardware in your computer.
It's good to update drivers (and you system as a whole but that's a different post) up to date. It's sure to cure all that ails you 🙂
DriverAgent.com is one of those nifty scanning web sites that takes a look at your computer and helps you out.
In this case DriverAgent.com scans the drivers installed on your computer and lets you know what is up to date, what is out of date and where to download new drivers.
The nice thing is that the scan is free 🙂
To update your drivers for you however costs about $30 (per year) which is well worth it if you ask me.
Even if you decide not to splash out on the membership you will at least know what drivers need to be updated, you can hunt them down yourself and update your computer 'manually' (which is so analog :-p )
My computer is currently 80% up to date, mostly because I haven't gotten around to downloading the updated drivers – this makes it much easier.
I'll get right on it.