There's a whole lot of ink on the market right now, it's expensive too. There seems to be a different cartridge for each printer out there. Sadly, in some cases it's actually cheaper to buy a new printer than it is to replace the cartridges.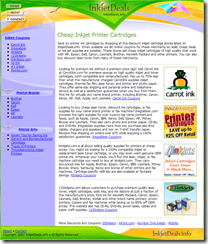 There's a whole lot of 'cheap' ink out there too – it's hard to find ink and suppliers who are reputable, reliable and inexpensive.
Luckily there's a site out there that helps in this area (otherwise I wouldn't be writing this, right?) InkJetDeals.info has a lot of what you need to know about finding ink, buying ink, using ink and what to do with the leftovers.
Whether it's a cheap Epson printer ink cartridge or information about Brother Ink and Toner InkJetDeals.info has a whole lot of information here.
I've changed a cartridge or two in my time and I'm pretty impressed by the amount of information and how it is presented on the site. 
Some of the nicest features of the site are the ink saving tips and troubleshooting inkjet printers.
It's nice to have a site full of coupons and links to some of the top ink and toner stores as this one does but offering that little more just makes it a little better.
I approve 🙂
[This post was inspired by PayPerPost. See our disclosure here]