Baidu.com is to China like Google.com is to the rest of the World. In fact, in China, if yoou were to try to visit Google.com, Baidu.com would pop up instead.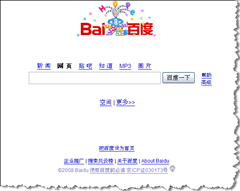 Shawn Wang joined Baid in 2004 as CFO of the company. Shawn died while on vacation in China, accidentally.
Baidu declined to comment further.
Baidu dominates the China's search engine market with a 60.7% share.