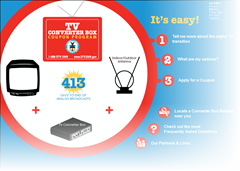 February 17th, 2009 – U.S Television stations will stop broadcasting over the airwaves and switch to 100% digital broadcast.
You have a couple of options when Feb. 19th arrives.
Connect to cable
Use a coupon to purchase a converter box
Buy a TV with a built in Digital Tuner.
Congress created the Tv Box Converter Coupon Program to that households can obtain up to 2 coupons to help alleviate he cost of a converter box.
Do you need a converter or something?
The likelihood is that you don't. you're sitting at home, looking at this on a computer on the Internet. I'm sure you don't use rabbit ears to watch TV, however, you might know someone who does. Read this for them.
The congress coupon site can be found at www.dltv2009.gov or call the 24 hour hotline at 1-888-DTV-2009 (1-888-388-2009)- there is lots of easy to navigate information there with questions answers and more.
Converter boxes are expected to be between $50 and $70, the coupon can take about $40 off the cost for you.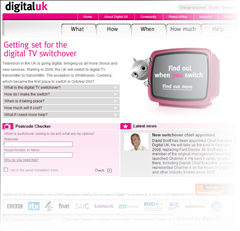 The UK started rolling out digital transmission in October 2007, they have a cute little robot to promote it too.
They have a nice little site that explains a lot too at www.digitaluk.co.uk