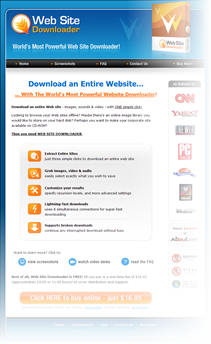 Sometimes you just need to download a web site for some strange reason. you'd be surprised how often it happens.
You could be doing a site demonstration anywhere – coffee shop, office, conference room etc. you can guarantee that the more critical the presentation/demonstration is the less likely it is that the Internet will work properly if at all.
All thanks to our friend Murphey, right?
Well, the web site downloader is a good piece of software to have as a backup.
When your Internet connection dies mid demo or just isn't available at all you can pull out your thumb drive, external drive or CD (if you're old school like that :-p ) and run it on your computer without worrying abut any other issues. It's not live but it's better than not having a site at all.
The WebSite downloader – capture website software lets you download an entire site, quickly and smoothly with just a couple of clicks and very little hassle.
It's well worth a look if you demonstrate sites at all.