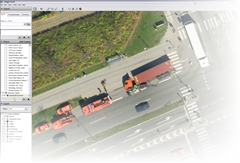 Google Earth is great. There is all kinds of stuff to see, things which you'd never see in your day to day life and it's all over the World too.
There are many communities dedicated to spotting weirdness on Google Earth.
Google Sightseeing brings us this one from Denmark, it's an overturned truck with the Emergency responders on scene.
Google Earth is one of the greatest free applications out there – download it here – Google Sightseeing is nice because it links to Google Earth so you can browse it freely in the application.