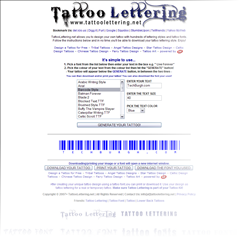 Here's a neat, handy idea.
Tattoos are nothing to get wrong, they're very, very permanent, even with the latest 'removal' technology you can be scarred and it's very expensive at best.
If you're thinking of getting a tattoo you want it to be exactly how you want it. .
Well, there's a site where you can design your own tattoo lettering
.
Using TattooLettering.net you can type in your text, choose from an array of fonts, change the color and size and see how it'll look.
Once you have your chosen style you can download the design and the font so you can take it all to your neighborhood ink place or print it yourself if you have some of those temporary tattoo kits.
The text styles seem to be somewhat typical tattoo types – they're cool though 🙂
If nothing else it's a nice site to play around with text, colors, sizes and fonts.
Take a look at TattooLettering.net
Here are some of my favorites.