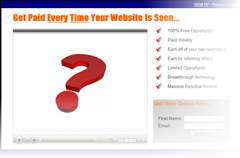 Online advertising is constantly changing. Advertisers are constantly seeking new ways to increase their advertising return on investment (ROI) and increase their exposure.
Web sites aren't content with just sticking a banner or box on their pages any more. They're looking for something more.
Net Audio Ads has an interesting concept, they're pushing audio ads.
The idea being they you put the ad on your page, it plays when you get a visitor and you're paid when your visitor listens to 5 seconds of audio.
Think about television and radio advertising. They've ben working well for years and all because you pretty much have no choice in seeing or listening to them. Well, this works in web sites too.


It's an interesting idea, I think it would be somewhat annoying if misused, like any other advertising scheme but if targeted right it might work.
It's not a new idea, NetAudioAds has been running for over two years and has more than 66,000 advertisers displayed on more than 550,000 sites – they're evidently popular.
NetAudioAds costs noting to sign up, they have lots of information on their simple web site too.
Also, if you're in to affiliate programs, Net Audio Ads has a pretty slick looking affiliate program. They're discontinuing it on Feb. 1st 2008 though, you might want to sign up now to make some money and keep making money after February.
Check out NetAudioAds.com