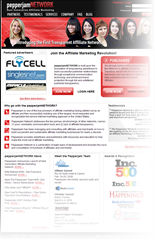 I tried Affiliate Marketing a little many years ago and didn't really get much, if anything out if it.
Affiliate marketing hasn't changed much either, it's pretty much the same thing it was 10 – 15 years ago.
The PepperJam Network is a new way to get into affiliate programs, it's trendy and utilizes some cool web 2.0 tools to get the job done too.
Not only does PepperJam site look good, and effective, it gets the message across right there on the front page.
They have some pretty high profile advertisers too which is good to see for a fledgling marketing service. According to the press release they launched with 100 advertisers and are growing rapidly, which isn't too bad at all.
Press Release:
Pepperjam Announces Launch of Next Generation Affiliate Marketing Network
Pepperjam, a two-time Inc. Magazine fastest growing company and industry leading full-service internet marketing agency, today announced the launch of Pepperjam Network, a proprietary next generation affiliate marketing network.
If you are an advertiser or affiliate and would like to sign-up for Pepperjam Network please visit www.pepperjamnetwork.com.
"Pepperjam Network represents an evolution in affiliate marketing. The creation of Pepperjam Network represents eight years of research and development and the combined ideas, feedback, and intelligence of hundreds of affiliate marketers and advertisers. Pepperjam Network will forever change the face of affiliate marketing by putting power back in the hands of affiliates and advertisers to build long-term, profitable partnerships through better communication tools and transparency," said Kristopher B. Jones, President & CEO of Pepperjam.
Among a variety of affiliate marketing enhancements, Pepperjam Network addresses the two primary shortcomings of other existing affiliate networks, namely (1) poor, unreliable communication tools and (2) lack of affiliate transparency. With Pepperjam Network, affiliates and advertisers can communicate in real-time via Pepperjam Chat™, thereby providing a reliable communication system to build stronger, more profitable partnerships. Pepperjam Network also provides advertisers with an unprecedented measure of affiliate transparency, which helps to establish trust, protect brand integrity, and lays the groundwork for open, long-term, profitable relationships.
Pepperjam Network also introduces pepperjamADS, which is a first-ever affiliate marketing widget that affiliates can use to serve customized contextual ads from one or multiple Pepperjam Network advertisers at the same time.
Pepperjam Network was designed to make the experience of affiliate marketing profitable and educational, with the goal of allowing affiliates and advertisers to truly understand and maximize the critical affiliate marketing channel.
Unlike the traditional networks, Pepperjam Network uses Web 2.0 technology to provide affiliates and advertisers with an easy-to-use, cutting-edge interface designed to facilitate and optimize the affiliate marketing process. For instance, Pepperjam Network offers industry leading source-level tracking and reporting – this robust technology is especially beneficial to search marketing and sophisticated super affiliates that want to take advantage of the most up-to-date technology available to track commissions at the keyword level.
Here is just a sample of what many industry experts are saying about Pepperjam Network:
"Even after all these years using Commission Junction on the merchant and affiliate side, I still find it terribly clumsy to find what I want. With Pepperjam Network it is quick and easy. Pepperjam Network is what an affiliate network would look like if it were built from a wish list from both the affiliate and merchant perspective," said Shawn Collins, Cofounder of Affiliate Summit.
"As both an advertiser and a affiliate, I am on the lookout for affiliate marketing systems that meet all our company's needs. Pepperjam Network is without a doubt the most comprehensive, practical and useful affiliate marketing system I have seen to date. Pepperjam Network demonstrates that it is possible to combine style with substance in a network that provides site owners and advertisers with tools and resources to increase their bottom line," said Joel Comm, New York Times Best-Selling author and CEO, InfoMedia, Inc.
About Pepperjam:
Pepperjam is an industry leading full-service internet marketing agency offering marketing services and advanced technology in the areas of pay-per-click, search-engine optimization, affiliate marketing, and online media planning and buying. The company was founded in 1999 by internet marketing expert, accomplished speaker, and published author Kristopher B. Jones. Pepperjam has received numerous awards and achievements, including recognition by Inc. Magazine for two consecutive years as one of the fastest growing privately-held businesses in the United States. Learn more at www.pepperjam.com.