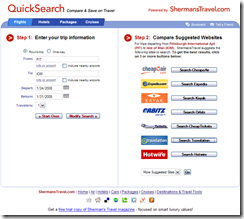 Lots of my posts are influenced by something I get in my reader or email.
I received a message this morning about a site that lets you search through a bunch of travel sites easily. ShermanTravel.com
I'm always looking for an inexpensive trip to the Isle of Man, naturally 🙂
I thought I'd do a quick comparison of a number of travel sites to see what happens.
Please, give me some feedback, let me know what travel sites you like to use and why. If yours isn't on the list get a price and let's see how it compares.
I searched each site for the same criteria, PIT to IOM, round-trip, one person, leaving today and coming back in a week. I clipped the initial quote and the final check-out price.
This is just quick, down and dirty look at the quoted price and the final price.
i sampled Cheapoair.com, Expedia.com, Orbitz.com, CheapTickets.com, and Travelation.com



Cheapoair.com
I had never heard of Cheapoair.com before and was pretty excited when I was given a price of just $351!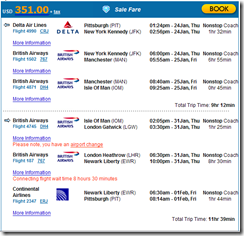 However, on clicking the book button I was given a different story – the price doubled when the fees and extras were added.
Total – $793.70


Everyone has heard of Expedia.com – it had big ties with Microsoft and is amongst the top travel sites.

Initial price – $1058
Total – $1058.80
I like that they give the total ticket price up front but why does it have to be so much higher than the rest?!


Orbitz.com is another company that has put a lot of money into advertising to become well known.
Initial Price – $833. They do mention the taxes and extras though and quote $981 inc. those.
Total – $1020.31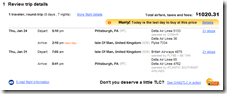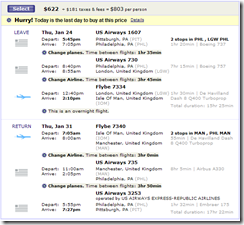 Initial – $622 (mentions $803 inc extras)
However the total wasn't as easy to get. I searched the site at least 4 times and each time I got the following message:
"We're sorry. Due to changes in airline availability, the fare you selected is no longer available. We have adjusted the fares for all affected flights. The fare for your selected trip is now $1214 total…"
It's not like I took forever to click the book button, I hit it right away – that's quite a jump

there!

Travelation.com is another I hadn't heard of. It produced a pretty good result though.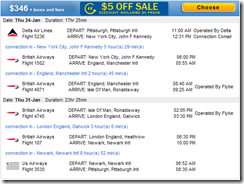 Initial – $346
Total – $793.20

I guess it's good to shop around with online travel sites. It's not always the best known ones that give the lowest prices or best results.
<
p>Oh, also if you want to contribute towards a trip you can PayPal to aquayle@gmail.com 🙂