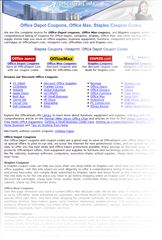 As tech types we often find ourselves wandering the aisles at our favorite office equipment store, or visiting an office equipment web site.
Office equipment and supply stores are often a good source for to fall back on or for emergency… stuff.
Whether you're in need of paper, ink, blank disks, disk labels, laptops, desktops, software, or anything office or home office related you an get it at these stores.
Wouldn't it be nice if there was a site that linked to the sites you need and use and told about deals and gave you some wonderful coupons to boot.
Well, low and behold there is! (imagine that :-p )
OfficeDeals.info is a really simple, straight forward site that brings you the latest, greatest Office Depot, Office Max, Staples, VistaPrint Coupons and more.
What's nice is that they branch out some too – OfficeDeals.info links to other online, office related sites and techy type sites too like Best Buy, HP, Newegg, Tiger Direct and others.
They're helpful as well, there are articles in the site library about getting small business credit cards, setting up home businesses, home business tips and more.
So, get your discount on, shop smart, make the most of your money and visit OfficeDeals.info to find coupons for office supplies, computers, equipment, furniture and inkjet cartridges