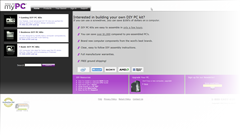 Have you ever fancied yourself as a computer tech? Do you have something of a crafty inclination?
EasyAsMyPC.com has a range of DIY pc kits for you to order to build your own PC, however you want it.
I've built a few computers and know a thing or two about the components involved. Building your own computer can bring you a great sense of satisfaction and accomplishment. Strangely, almost giving birth to something (yeah, that sounds weird).
Anyway… all being well you can save hundreds of dollars on a new PC when you make it yourself.
Don't forget though – if you don't know a lot about computers or the stuff involved it may end up costing you more. Thought it's worth getting a kit you might want to be cautious and learn some or find a tech to help you along your way.