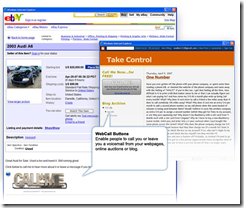 Blog Herald writes that Google has joined it's Blogger service with it's Grandcentral service to give it's bloggers the ability to receive phone calls and voicemail on their blogs.
The advantage being that your visitors and callers don't see your phone number.
Grandcentral is currently in beta – I do have a couple of invites if you're nice to me.
What is GrandCentral?
Get all the same calls, but in a whole new way.
GrandCentral doesn't replace your phones; we just link them together and help them do more. How do we do that? We give people One Number…for LifeTM – a number that's not tied to a phone or a location – but tied to you.
Sorry to disappoint those on Blogspot – I've been able to do this for a while:
With GrandCentral, you can be reached with a single number, answer a call at any phone you want, seamlessly switch phones in the middle of a call, and even know whether a call is important before you take it.
What else can I do with GrandCentral?
We're not your typical phone company. And these aren't your typical features.
Check your messages by phone, email, or online
Keep all your messages online for eternity
Record and store your phone calls (just like voicemail)
Quickly (and secretly) block an annoying caller
Click-to-dial from your address book
Surprise your callers with a custom voicemail greeting
Forward, download, and add notes to your messages