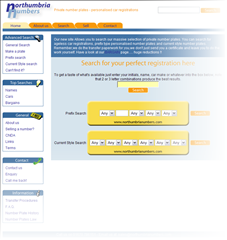 Since 1995, NorthumbriaNumbers.com has been providing it's users with a simple, effective way to buy custom number plates.
Well, they asked me to review their new and improved web site.
It's remarkably simple.
Right there on the front page are a couple of search options to find a plate just right for you.
The site navigation boxes are laid out nicely and always there.
Between the tabs and the 5 navigation boxes it's really easy to get where you need to on the site with just a click or two.
After a quick search, should you decide to buy a plate you can get it right there from the results screen.
Not only can you by your vanity number plate but Northumbria Numbers can appraise your existing custom number plate and sell it for you.