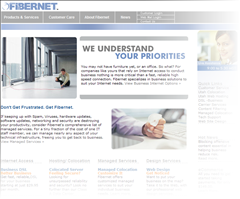 We've talked about what a 'Colo' is before.
'Colo' is short for 'Colocation' meaning one place that houses many servers.
This is of course much cheaper than building a data center of your own and housing your own servers. Of course it's a lot more reliable than sitting a computer in your living room, attaching it to your cable (or at best a T1) and calling it a server.
While stumbling around looking at Colo sites I came across a really nice one in Utah.
Why would you want a utah colocation though? Well, Utah, though a beautiful State is relatively uneventful, because of it's geography, as far as natural disasters go. This makes it a prime location for a reliable colo.
Real estate is possibly inexpensive enough to make a warehouse full of computers viable.
Of course natural disasters and real estate prices aren't the only things to consider when considering a colo site to house your server.
Think about HVAC, security, UPS', generators, fire suppression and more.