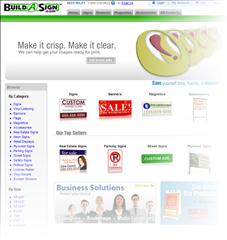 There was a time when professional looking, professional quality, inexpensive, custom signs were hard to come by.
Sign makers need special printers and equipment to create quality signs.
BuildASign.com is a nice site where you can pick from banners, car magnets, real estate signs, political signs, plywood signs, Yard Signs and more in many shapes, sizes and colors.
What's better is that you get to design your sign yourself, how you want it keeping prices low and eliminating expensive designers.
BuildASign.com is a user friendly site and the prices seem pretty reasonable. There is even a rather nice testimonials page.