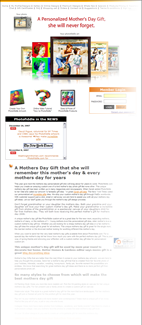 I like it when a site gets a lot of 'real world' reviews. Positive reviews at that.
Photofiddle.com is a site that allows you, the user to create your own masterpiece from a photograph.
The idea is that you can create a one-of-a-kind, custom, personal gift.
Oprah, the NY Times, PC Magazine, David Pogue, Home and Gardens, and more have all spoken very fondly of Photofiddle.com, it's design, style, ease of use and the products it offers.
So, take a look at PhotoFiddle.com. Fiddle with your photos and create a wonderful mothers day gift.