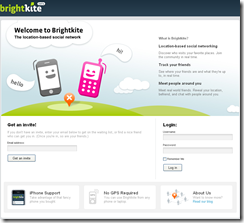 So, have you hear of BriteKite?
BriteKite is a location based social networking site.
The idea being that, through the site, you can find other people who visit the places you like to visit and track (stalk?) your friends and see what they're up to and where they are. You can see what's going on around you too.
All you do is put your address in via your phone, iPhone or Laptop and the site tags where you are. You can take pictures on your phone and show your friends what you're doing and seeing.
BriteKite will even Tweet your location to your Twitter account when you update.
The BriteKite site is colorful, fun, simple and pretty intuitive.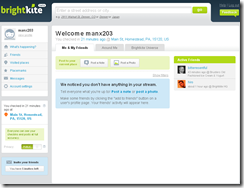 I have 5 (and only 5) BriteKite Invites to give away. The usual rules apply. Comment and get one.