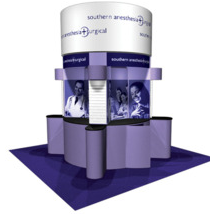 I've often wondered where companies get their neat trade show displays from. I've briefly Googled them and not come up with a site/company of any great consequence.
This site came to my attention today and it happens to answer a whole bunch of my questions.
The Godfrey Group provides custom trade show displays, trade show exhibits, banner stands and a bunch more stuff to actively, attractively promote your company.
The site is full of examples and ideas.
There is some really cool technology in the Audio Video Displays section.
Be sure to get your free ideas tool book when you visit the site too. I'm looking forward to seeing mine.