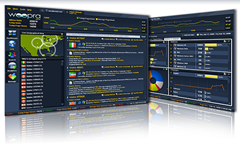 When Woopra says it's "The World's most comprehensive, information rich, easy to use, real-time Web tracking and analysis application" it's completely right!
I'm sooooo excited about this one!
I admit, I got my site approvals last night for beta testing and wondered what on earth Woopra is and what I had signed for. I had totally forgotten.
I'm so glad I did though!
I've looked at my fair share of stats and analytics sites and applications. Sure, it gets confusing and tiresome. It's nice to see something fresh, colorful and cheery looking.
Firstly, the Woopra site is easy to use. It's free and currently in invite beta. Once in, you submit your site and it's given an ID and off you go.
The site installation was simple too. I've installed it on WordPress thus far. Download a plugin, activate it and put the site ID in. your site starts reporting immediately.
There is a small application to download and install on your desktop. I've only had access for a few minutes but here's what I've found.
The application is great! It shows everything you need to know in a simple layout. You can see your visits numerically and on a handy time-line. you see where your visits are coming from and going to.

Each of your registered sites is tabbed at the top of the application window for easy access.

There's a ticker running across the bottom giving you all kinds of handy information.

The live view shows you visits as they happen.
Where the visitor is from geographically and referally, their IP, browser, resolution etc.
There's a 'start a conversation' button too which I tested out when a certain Australian visited the site, it initiates a chat session between you and your visitor of choice. .
There's a nice breakdown of the user trip around your web site too as they travel.
You can tag visitors to see what they're doing each time they visit your site.
The analytics pane is great. It breaks down your visitors, systems, pages and referrers.
Woopra tells you pretty much everything you'd ever need to know about your site….ever and in pleasing to the eye, easy to understand way.
There are notifications too.
i.e you can have a notification pop-up and a sound play when a certain someone, from a certain somewhere, reads a certain page about a certain thing.
You can notify on 'title contains' and every other variant of anything you'd need. It's sooo highly customizable.
In all I love Woopra and will be using it a lot more as days go on. I think it'll be my main analytics interface. Hopefully I'll havev a lot more to do with them in the future.
oh, Google – yeah Woopra would be a good buy :-p sad to say their stats kicks Google Analytics' butt!
See more at Woopra.com