Get your Software library up rolling with this special offer from CD Earth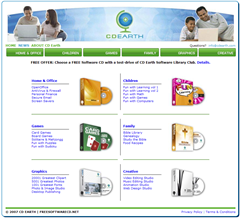 .
CD Earth is giving away 2 Free Full Version Software CDs from their online catalog. (see it at CDEarth.com) there's no obligation. you get a 25 day test drive of the software of your choice.
If you choose to stay on as a part of the CD Earth program you'll get 4 new, full-version CDs about every 7 or 8 weeks, you check these out and buy them if you want them. If they're not your thing you send them back.
Cancel your membership at any time and CD Earth lets you keep your two free CDs.
CD Earth appears to be all about the customer service and support thing. They have a toll free number which is staffed 24/7/365.
It's nice to see a company who is trying to help people build their software library and not loading a ton of junk on them that will just sit in a drawer somewhere. Choice is good!
CD Earth has quite a comprehensive catalog too. They have Children's software, Home and Office, Games, Graphics, Family oriented software and more.
So, expand your software library, learn something, use the CD you receive as gifts, whatever you like. 🙂
Check out CDEarth.com