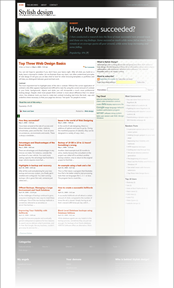 I was asked to take a look at StylishDesign.com.
Simply put, it's a Web design blog it's evidently fairly new but it already has a fair number of articles related to design, SEO, web directories, tools, software, CSS, templates and more.
The articles are pretty well written. They're detailed but not overly complicated. Robert Evidently knows a thing or two about what he's writing about.
I wouldn't say they're beginner posts though. More intermediate site owner level.
The site layout, is of course good and the articles are easy to find.
It's currently not ranking too high though. For an SEO blog I guess I was hoping for an Alexa of less than 9 million.
It's well worth a look though. Check out StylishDesign.com