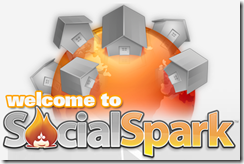 There's money in them thar blogs!
Izea has been an innovative, market leader in helping bloggers finance their work (and in some cases turn a passion into a job) for a long time now.
Until now PayPerPost has been their most famous project. They just publicly launched SocialSpark, a brilliant new network and resource for bloggers and advertisers to get together and 'Get everyone talking'.
Through SocialSpark, Bloggeres can find sponsored posts and blog sponsors as well as other bloggers and blogs.
When you sign up for a SocialSpark account and list your blogs you create a public profile (a nice looking one at that) for your friends, fans and public to see. [here is the TechBurgh Profile]
It's all about building community.
Admittedly I've been signed up since the Alpha and haven't had much chance to play with it. Some people found me though and have looked at my profile and added me as a friend.
It's really easy to add blogs to your account too. Naturally they can't be fly-by-night blogs, there's a short code to install. SocialSpark (hopefully) approves your blog and you're ready to start accepting opportunities!
I like the site and the whole idea behind it. If you've read the blog much at all you'll know that I believe this is how Social Media and the revenue related to it is going to be in the future.
I love seeing the blogs and bloggers' backgrounds too. The community aspect is great.
It would be nice if the 'Customer Love' staff we a little more accessible though. It would be nice if there were some kind of interview (like other sites do) prior to blog approval instead of just using a stringent set of bind rules to approve/deny blogs and bloggers.
Anywho – it's well worth checking out.
Be sure to friend me, prop me and leave some feedback!
[this is a sponsored post – I mean every word though. See the disclosure in the link bar at the top of the page.]