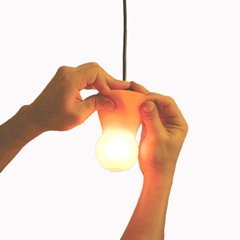 Are you in such dire straights that you have a solitary bulb just hanging from a wire, all naked and alone? (the bulb that is, not you)
Well, there's a solution for your bulb nakedness.
The BulbCap is a handy little gadget that gives your bulb a shade of it's own simply by slipping onto the actual bulb.
The glow when you turn out the light too, which is kind of cool.
However, all is not well in BulbCap land. After reading the product description my initial thoughts were confirmed. Yes, it can be a fire hazard and shouldn't be used with bulbs over 40 watts.
More at Coolest Gadgets