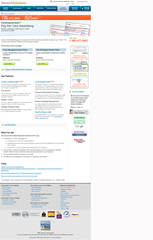 Network Solutions is promoting a new pay per click program called PerfornceClicks!
Building on the fact that people use search engines for most of their web browsing (difference between 'browsing' and usage) Network Solutions is offering to pretty much take over your whole Google Adwords marketing campaign for a monthly fee.
There are a couple of packages available, which we'll go into later.
Features of the plans include:
Custom Landing pages for your customers to hit
Keyword research, site analysis, copy creation, keyword buys and more
Budget Control – advertising based on your budget
Reporting and analysis
And more
There are two plans on the site – 'from $400/month' and 'from $125/month' (both plus setup fees, $300 and $99 respectively).
Both plans are pretty comprehensive offer different functions. The 'Maximized' plan isn't the lower plan plus some.
Though seemingly pricey PPC advertising is often necessary in advertising in this day and age.
To do PPC well you have to understand the search engine processes and keyword functions etc. etc. and you have to spend a whole lot of time working at it.
This is one of those occasions in which it could be a good idea to jump all in and have someone take care of it for you.
The Network Solutions packages are certainly less expensive than some SEO firms are charging and if they're guaranteeing targeted clicks on your ad then that means you're guaranteed visitors which is never a bad thing, right?
That do you think of the packages?