The folks at Moo.com have long been known for bringing us business cards of diminutive size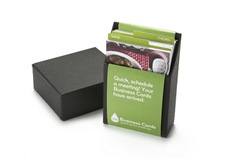 .
After a great deal of hassling from their ever-so-dedicated customers Moo has broadened their product line and brought out cards that are twice the size of the old ones.
One of the nice things about Moo is the fact that they're really, really different.
You have the ability to add pictures from your online galleries and your contact information from LinkedIn, which is pretty slick.
See the Moo Crew promo video after the jump.

Introducing MOO Business Cards. from Moo Crew on Vimeo.
(photo Credit: Moo Print)