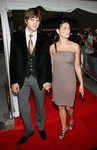 Image by Getty Images via Daylife
Kevin Rose and Ashton Kutcher are reported to be pairing up to make a web based reality series set in Utah later this year.
Kevin Rose (famous for Digg, Diggnation and TechTV) and Ashton Kutcher (famos for Demi Moore, Beauty and the Geek, Punk'd) are working on 24 Hours at Sundance in which 4 Social Media types will take part in a number of challenges for 24 hours, competing against each other.
It's an interesting lineup. Matt Marshall, Meghan Asha, CJ Peters and Irina Slutsky are slated to be the competitors.
Sponsored by Qik, It's a novel concept, taking place in real time.
Setting itself apart from typical reality show entertainment I think we'll see a lot more of this kind of thing as Hollywood realizes that there is a lot of talent and a huge audience online.
I'll watch it.
What do you think?
Related articles by Zemanta
Kevin Rose Your Ashton Kutcher Your Web App Is Not Working!