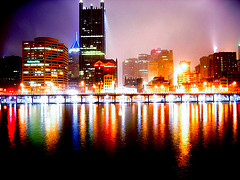 Image by brunkfordbraun via Flickr
*Guest post by Priya Narasimhan*
Are you a Penguins fan? Want to be able to follow Malkin, Crosby or your favorite player on the ice? Want to catch action replays of goals, fights, saves, as soon as they happen, instead of having to settle for what the jumbotron shows you? Want to create your own action replay? And do all this right from your seat?
You're in luck.
Welcome to YinzCam. Built by fans, for fans. And the best part — it's FREE.
Carnegie Mellon engineers, working with the Pittsburgh Penguins, have developed and installed the wifi-based YinzCam service inside Mellon Arena. Simply bring your IPod Touch, your IPhone, your Blackberry Bold to the next Penguins home game. Get on the wifi network inside the Arena and you can then catch real-time action replays, rewind a live camera feed yourself (creating your own action replay) on your wifi device, select from different live camera feeds (Malkin Cam, Bench Cam, etc.), check out the roster, the schedule of games, etc.
Join the yinzcam group on facebook:  (to send the team your feedback and suggestions for improvement)
Follow yinzcam on twitter, http://twitter.com/yinzcam (for info on giveaways, special camera angles for that game)
Most of all, don't forget to take your wifi device to the next Penguins home game to enjoy YinzCam!