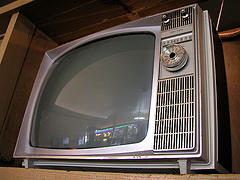 Image by massdistraction via Flickr
MINNEAPOLIS, March 4, 2009 — A group of Minnesota
organizations and businesses has recently joined forces to
help bring digital TV into every household, especially those
who may need some assistance. Through a relationship
established by the DTV Assistance Centers in Minneapolis and
St. Paul, MN, and "Mosquito Productions at FreeDTVShop.com"
(http://www.FreeDTVShop.com), an authorized retailer in the
government's TV Converter Box Coupon Program, people
impacted by financial, language, mobility, and technological
barriers will now be able to receive digital TV
transmissions in their homes at no cost to them.
But this effort will only be successful with the help of the
public at large. Together, these groups have established an
online coupon donation website at http://www.DonateDTV.com.
Anyone from around the country can donate unused,
non-expired coupons simply by visiting the website and
entering in the information found on a red plastic converter
box coupon card. To date, nearly 50% of all coupons that
have been sent out by the government have expired. If you
are in possession of a coupon card that is not needed for
your own home's televisions, donate it today at
http://www.DonateDTV.com. It will result in a DTV converter
box being placed in the home of someone in need.
"It's a shame that so many coupons are going unused and
expiring," said John Buchmann, owner of Mosquito
Productions. "The good news is that once a coupon expires,
the funds that were allocated for that coupon are then
applied to a new coupon, so there is still a huge
opportunity to make a difference in the life of someone who
just needs a little help during this confusing transition
time. If you have a coupon that you don't need, don't let it
expire — donate it now at DonateDTV.com!"
The Twin Cities' DTV Assistance Centers were established by
the Leadership Conference on Civil Rights Education Fund
(LCCREF) with the support of the National Telecommunication
and Information Administration and are comprised of the Main
Street Project (http://www.mainstreetproject.org) and the
Lao Assistance Center (http://www.laocenter.org). The
assistance centers are also working in concert with the
Minnesotano Media Empowerment Project
) and Media Action Grassroots
Network (http://www.mediagrassroots.org) during this
endeavor.
"Mosquito Productions at FreeDTVShop.com" has been an
authorized retailer in the TV coupon program since February
2008 and sells converter boxes online at
http://www.FreeDTVShop.com.
Related articles by Zemanta