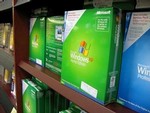 Image by Getty Images via Daylife
LITCHFIELD PARK, Ariz., March 19, 2009 — Retina-X Studios,
LLC announced today the immediate availability of
RecoveryCop for Windows Mobile devices. This software claims
to be "A Thief's Worst Nightmare!" Users can install the
software to their compatible Windows Mobile based device and
it will run in stealth. Anytime thereafter they can monitor
every move, action and sound of the device even if a new SIM
card is inserted.
This Microsoft certified software for Windows Mobile goes
beyond conventional means of theft recovery and monitoring.
While the software gives the usual SIM card change alerts
and GPS tracking, it gives the user many more tools to catch
the thief by monitoring every activity that happens on the
phone. The user can even turn on the microphone of the
device to listen to the thief's surroundings for a better
clue as to where the device is.
The user can interact with the device using SMS commands or
by logging into a website. On the website the user can view
various logged activity from the device. All SMS messages
sent and received are recorded along with information about
every call. Every contact name and number on the phone is
uploaded. The IP addresses, International Mobile Subscriber
Identity (IMSI) and other information are also viewable on
the website.
While this exclusive system includes features for
monitoring, it also includes data security features. The
user can completely erase personal data from the phone at
any time. The phone can also be remotely locked so that it
will not be usable or unlocked back to a normal state.
"She stole our truck, bank cards, credit cards and the
phone. The only way to find her was by tracking with your
software. The police were able to catch her," says Adam
Daniels, a Retina-X Studios software user. Retina-X Studios
CEO James Johns states, "Our users have an unfair advantage.
They have the tools necessary for authorities to capture the
thief."
RecoveryCop is compatible with smartphones or Pocket PC's
running the Windows Mobile 6.x operating system. This
includes Windows Mobile 6.x Standard and Professional. The
system is compatible with both GSM and CDMA carriers. The
website for RecoveryCop can be found at
. RecoveryCop can also be found in
Microsoft's Windows Mobile Catalog.
About Retina-X Studios: RXS designs and develops tools that
let users monitor their individual PC, network or
smartphone. Retina-X Studios products such as the world's
first monitoring software for iPhone have gained media
attention in The New York Times, Los Angeles Times,
MacWorld, PC World, Forbes, Reader's Digest, and other media
outlets.